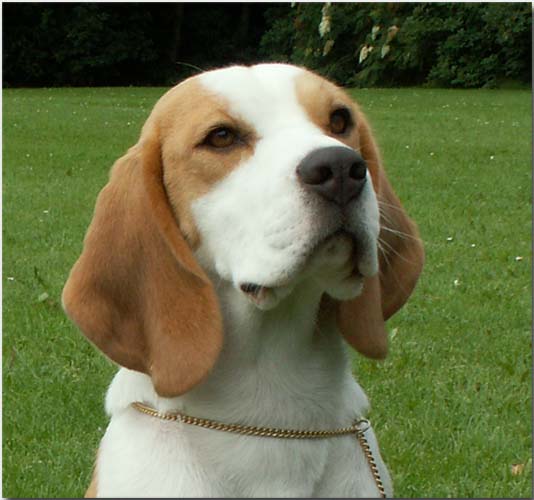 Heaven - Reserve Best Bitch - Crufts 2007
Heaven was just lovely. She had a wonderful temperament and she was in our eyes very beautiful. She moved freely, effortlessly and with a fantastic drive. She was the packs uncrowned queen in a quiet and very convincingly way. Heaven was a pleasure to live with. Sweet and very loving and we miss her enormously.
Fortunately, we have beautiful children after her, which fully lived up to their mother's beauty.
Heaven has had 3 litters. Her first litter from 2009 has so far more than 17 ticket and many BIS & RBIS placements. Heaven's litter from 2010 has also done very well.
Heavens beautifull offspring has made her Gold and Silver Bitch 4 years in a row.
Some of Heaven's results

GOLD BROOD BITCH 2012

SILVER BROOD BITCH 2011

GOLD BROOD BITCH 2010

GOLD BROOD BITCH 2009

BROOD BITCH 2010 WITH MOST CC WINNING OFFSPRING

BROOD BITCH 2009 WITH MOST CC WINNING OFFSPRING

Crufts 10.03.2007

2. Best Bitch - RCC

We are very proud with Heaven's impressive win at Crufts. The worlds largest and probably most prestigious dog show. Heaven is now in The English Stud Book and for ever qualified for Crufts.

251 beagles entered, 130 bitches

Judge: David Bradley, UK

David Bradley's critique: I have always associated this kennel with superb movement and this lovely bitch proved it once again . She floated round the ring so effortlessly that I could have watched her all day. Yes, she is up to size but certainly not over. She had everything, and everything was going for her. It gave me great pleasure to award her R.C.C.

Heaven best working dog 2006 in The Beagle Club
Sopwith Camel's Heavenly Rosalind pedigree
BGCH DKCH Dufosee Capability
GBCH Dufosee Vindicator
GBCH Dufosee Zenith
Tragband In Favour Of Dufosee
GBCH Dufosee Wild Flower
Norcis Taurus
Dufosee Garbo
Sopwith Camel's English Elegance
VDH/BCDCH Interim's Sir Rodney Richmond

DKCH Skansehøj's Johan
Interim's Lady Idabelle

DKCH Skansehøj's Ronja
Beaglers Sydney
DKCH Skansehøj's Johanne